Drywall Repair Services in Chicago, IL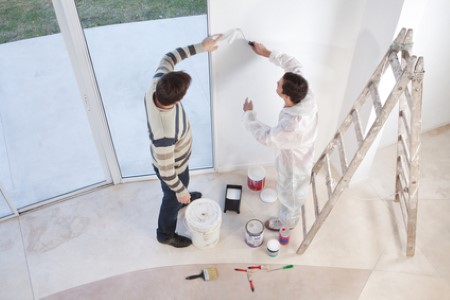 Drywall (also called "sheetrock") is a material used to create the ceilings and walls of your home. It is also used to repair or patch holes in plaster walls that are too big for spackling or joint compound repair. Drywall is conducive to painting and can be textured in a multiple of ways. Its easy to install, pliable, and is a great choice of material for your home's walls and ceilings.
Much more goes into repairing drywall than many Chicago homeowners can imagine – that is until they try to do it themselves! That small hole that seems easy to patch can quickly turn into a large, unsightly bulge on your wall. These can be difficult to smooth out and almost impossible to disguise.
Before we begin your drywall painting project, any damage to the drywall should be repaired. Repairing the dents and holes in your walls will bring a finished look to your home and help the paint last longer. Give the Chicago Drywall Repairs contractors at Chicago Painters a call today for a free drywall repair estimate.
Our Chicago Drywall Repairs Includes These Detailed Services
Drywall Hole Repair
Drywall Crack Repair
Drywall Patch Repair
Drywall Ceiling Repair
Sheetrock Repair
Dry Wall Repairs
Drywall Seam Repairs
Replacing Drywall
Drywall Refinishing
We Provide Drywall Repairs in the Following Areas:
Buffalo Grove, IL | Chicago, IL | Deerfield, IL | Des Plaines, IL | Elmhurst, IL | Evanston, IL | Glen Ellyn, IL | Glencoe, IL | Glenview, IL | Highland Park, IL | Kenilworth, IL
Why Chicago Homeowners Should Hire Us For Their Drywall Repairs
After deciding to enhance the look and feel of your house, you should gather a few listings of Chicago drywall repair contractors before settling on one. While general, as well as sub-contractors advertise in the newspaper, telephone book, and the Internet, there are also professional organizations. Once you've narrowed down potential painting companies, you should check out how he or she conducts their business. Visiting a job site allows you to see the drywall repair contractor work on current projects.
During a visit, it is important to note the safety, cleanliness, neatness, and conduct of the worker(s). This is a telling sign as to how your Chicago drywall repair project might be handled.
As a Chicago, IL professional painting contractor we can provide you with all types of Drywall Repairs services like Drywall Hole Repair, Drywall Crack Repair, and Drywall Patch Repair to name just a few. Our professional Drywall Repairs team is bonded, licensed and insured. They carry liability insurance and worker's compensation coverage. We also are a certified Sherwin Williams preferred Drywall Repairs company. Chicago Painters Inc will make sure your belongings are protected and your family is safe as we complete your Drywall Repairs project. Let us do the work; there is no need to get your hands dirty!
We do not cut corners. We provide excellent long-term value by hiring the best Chicago area Drywall Repairs Contractors and providing high quality paint jobs. You'll have confidence when the job is started and complete satisfaction when it's done. We will go above and beyond to please you so we can add your name to our long list of satisfied Drywall Repairs customers in the Chicago, IL area.
Recent Articles
How to Choose Colors for Interior Painting: Transforming Your Space with Confidence
Choosing colors for interior painting can be an exciting yet overwhelming task. The colors you select can have a significant impact on the overall ambiance and aesthetics of your living spaces. Whether you're looking to create a soothing retreat, a vibrant gathering area, or a cozy […]
4 Reasons To Have Your Deck Stained Regularly
A deck can be a wonderful investment for your home, providing you and your family with a great space for entertaining, relaxing at the end of a long day, or just accenting your home's already beautiful landscape. Whatever the case may be, wooden decks require regular upkeep to […]