How to Care for Your Chicago Home's Hardwood Flooring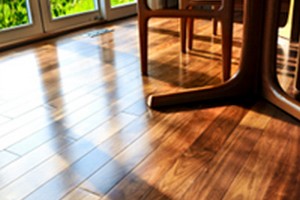 Hardwood flooring is a stunning installation that will add tons of resale value to your Chicago area home. It will also prove to be one of your longest-lasting flooring options, as it can last upward of a century or more -- that is if you take care of it, of course.
To ensure that your Chicago home's hardwood flooring will enjoy the longest lifespan and continue looking its best all the while, you need to know how to take care of it. In this article, we provide three major tips to help you provide the best care for your hardwood flooring so that it stays beautiful for decades to come.
Damp Mop Once a Month
Like any non-carpeted flooring surface, hardwood requires routine mopping to maintain its beauty. Unlike many other flooring types, however, you need to be cautious not to use too much moisture for this job, as too much moisture can cause your hardwood flooring to warp and even rot over time.
To ensure that your hardwood flooring remains clean without causing it to suffer any of these issues, you need to use a damp mopping. Use a flat mop with a microfiber head, and instead of wetting it, simply mist its head with a cleaner made specifically for hardwood flooring.
Thoroughly Remove Dirt with a Gentle Brook or Vacuum
Unlike many other flooring options, hardwood can suffer significant damage if there is a great enough accumulation of dirt on it. This dirt acts as something of a gritty sandpaper that scrapes and damages your flooring as you walk and spread it about. So, you need to keep dirt as thoroughly removed from your hardwood as you can.
Similar to the mopping process, the process of removing dirt from your hardwood flooring requires care to avoid damages. This care is simple enough: Simply use a soft-bristled broom if you opt to sweep. You can vacuum, but take care with your vacuum's wheels, and never use a spinning nozzle attachment.
Be Mindful with Furniture on Your Hardwood Flooring
Surely you don't intend to dedicate an entire room of your Chicago home to your hardwood flooring and nothing more. No, you'll furnish that space to make it home. Of course, hardwood doesn't always mix so well with furniture -- at least not the legs and other parts of furniture that comes in contact with it.
Heavy furniture pieces can dig into your hardwood flooring, leaving unsightly indentations and scuffs that can impact its look. To avoid these eyesores, take a little extra care with heavy furniture pieces on hardwood. This care can be as simple as putting gentle pads under furniture leggings. The added benefit here is that your furniture will be easy to move about.
Call Us If You Need Any Hardwood Flooring Help
Even the most meticulously maintained hardwood flooring is bound to suffer some wear and damage over time. Should yours be suffering from this kind of wear, then you need to call Chicago Painters. We're more than painting experts: We're also hardwood flooring pros who can get yours back in the best possible shape.