Concrete Paint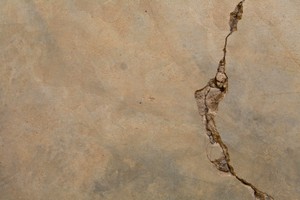 Many home owners report that their concrete does not look as good as it first did, and indeed some concrete looses its looks and become cracked and dimples and rust stains. This look damages the house look and many find it to be plain ugly, the solutions that people apply to this problem is usually covering the whole concrete surface with different thing, mattress and clothes from all materials, but covering the concrete does not solve the problem just provides a temporary solution you need to remove once it starts raining.
The real solution for this problem is using concrete paint. You can use concrete paint to cover the whole surface and make it look completely different, the paint will help you change the look and you can also add some sand to the paint to help prevent problems like slipping or falling on the concrete because of water or cracks, the paint will make these problems disappear.
Whenever talking about changing or replacing concrete we are talking about an expensive work that will almost surely take some time and effort that might disturb the family living in the house for some time, this is why the concrete problems should first try to be solved by a quicker and simpler solutions, the concrete paint solution is much shorter and easier than redoing the whole area of the concrete. The only thing you need to do is visit a shop and decide on the color that you want, buy the other necessary things for this project, find some free time and paint your concrete.
There is also place for creativity when painting your concrete, you can buy a few different colors, make a plan of how you want to paint it and paint geometric shapes, different patterns, words and letters, colors that correspond to the house colors, swirls and circle shapes and check board shapes. You can also use templates for these shapes, you will need to make or get durable templates and use them to give your concrete a unique look.
The only important thing you should bare in mind is that before painting the concrete you will need to examine all the concrete surface to make sure that it is clean and dry, in any case you should clean the whole surface to make sure that no oil stains or water is not present on the surface because concrete can hold a lot water. You can clean the surface by using a broom on the dry surface and then using a broom and some strong cleaning produce, washing like you do at home, and then using water to wash away the soap. Once the concrete is clean and dry the painting can start.
Once you will complete the painting you will understand how easy and simple it is to reinvent your concrete surface look, and also understand that once you are bored with the colors you could change again and again, good luck with your new concrete paint and new concrete surface.
Submitted By: Daniel Roshard