Professional Home Decor Tips For Selling, Staying and Going Green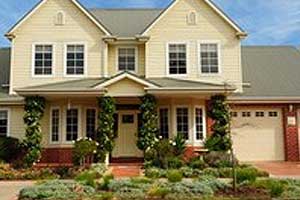 (ARA) Despite a slumping economy, home improvements remain a popular investment for homeowners. With paint rollers and hammers in hand, they're getting the most out of their home-improvement dollar with do-it-yourself projects that make a dramatic difference.

Three-quarters of Americans and Canadians plan to renovate this year, even though only one in 10 homeowners plan to sell their homes, according to the fourth edition of the annual KILZ Roller Report. The report offers insight on the housing market, green design and renovation plans from more than 1,000 American and Canadian homeowners and 300 American professional painters and contractors. Lisa LaPorta, designer and host of HGTV's Designed to Sell, interprets the survey results and helps homeowners make good design decisions -- whether they're selling, staying or going green.
Selling
Finding: More than half of homeowners (56 percent) planning to sell in the next year will complete minor to moderate renovations like painting the exterior of their house or touching up interior walls to enhance their home's market value.

Tip: LaPorta emphasizes the importance of staying true to a home's architectural style when painting its exterior. Don't paint an American colonial house with Tuscan orange paint, she says. Save bold colors for trim, shutters and the front door. Black, red or hunter green high gloss paint on these areas adds polish to a home.

When selling, it's safer to remain neutral on the interior, but you can do so in rich tones. "Neutral doesn't always mean beige", says LaPorta. Try painting interior walls with shades of deep taupe, warm grey or soft brown. All are trend-right and make an impact without overwhelming interior design. Regardless of paint color, start with a high quality water-based primer like KILZ Premium. This will block and hide water stains and bold colors that could otherwise sway purchase decisions for potential buyers.

Finding: Eighty-two percent of home sellers said kitchen design is very or extremely important to their purchase decision.

Tip: According to LaPorta, the kitchen is the most used, equipment-heavy and expensive-to-renovate room in the home, but it is invaluable to a house's selling potential. "When it comes to selling, new appliances have the greatest impact on kitchen appeal", says LaPorta. If you're not able to make a large investment, achieve a similar effect by updating cabinetry with fresh coats of primer and paint. This, along with new cabinet hardware, will make a kitchen appear brand new at a fraction of the cost of a full renovation.
Staying
Finding: Three quarters of homeowners (75 percent) planning to stay in their current residence will complete a renovation in the next year.

Tip: According to LaPorta, homeowners can quickly and inexpensively transform their homes with paint. "Applying a fresh coat of primer and paint is the easiest way to transform a space with minimal time and financial investment", she says.

Homeowners can elevate the exterior appeal of their home by paying attention to details. "The exterior of a house makes the first impression and details make a world of difference", says LaPorta. Add a fresh coat of primer and paint to trim areas, store trash bins out of sight and invest in a quality landscaping job.

Finding: More than half (55 percent) of homeowners claim to be "mix-masters" in their decorating style, boasting a decor compilation from different eras, regions and styles.

Tip: "Eclectic interior design is difficult to achieve", says LaPorta. Claiming mix-master style is not an excuse to combine furniture and decor that has nothing in common. Instead, try clustering various elements into cohesive groups. Find a common element, like color or pattern, to create a well-blended match.
Going Green
Finding: Seventy-nine percent of homeowners don't know what low VOC paint or primer is, and 82 percent don't know where to buy it.

Tip: Volatile organic compounds, or VOCs, are chemical compounds in many traditional building products, including paint, adhesives and colorants. "They can vaporize into the atmosphere, affecting indoor and outdoor air quality", says LaPorta. The term low VOC means the paint may have less of an impact on air quality and the environment than traditional formulas.

"Water-based paint and primers, often referred to as latex coatings, are generally lower in VOCs than oil-based paints and primers", says LaPorta. Choosing them over oil-based paint is an easy way to be more eco-friendly.

LaPorta doesn't see green building as a trend, but as the next evolution in home design. "Going green doesn't need to feel overwhelming", she says. Start small by switching to compact fluorescent light bulbs, purchasing ENERGY STAR rated appliances and using water-based coatings. These small changes will have a positive impact on your energy bills and the environment.

Courtesy of ARAcontent