Decorative Painting Techniques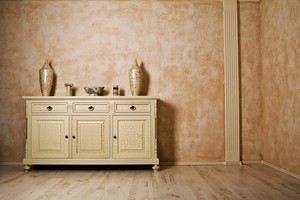 Find a place in your home that rarely gets noticed and have some fun thinking outside the box. When you look up at your ceilings what do you see? Do you see a fun color or a decal or even faux painting, or do you simply see a white ceiling. Learn how to see the area in the tallest part of a room, as an adventure in possibilities.
How often do you see amazing and interesting options when you look up? Not often enough I bet. Using color on ceilings can create interesting and attention-getting options for your home.
I usually do this kind of painting in smaller spaces like powder rooms, kid's rooms and laundry rooms. I have in the past created a plaid ceiling in a powder room, it was great, and everyone who used that bathroom came out telling someone else about it, especially at parties. It was a lot of fun. I used metallic paint creating a very striking technique.
Another wonderful use is copper, silver or gold leaf attached to the ceiling. It is a bit time consuming and a little expensive, but amazing. After installing it I often use dark brown or black just rubbed into small areas to age it. When you do this technique it brings down the shine and makes it look like it has been there forever.
I have used black paint with glow in the dark paint over it. The painted objects are only visible when the lights are out; this is a great technique for kid's rooms. After it has been up awhile it is really fun to add something new and have them look for the new addition, they are very excited to go to bed with the lights out.
If you are very ambitious you can create an entire mural on the ceiling. Mine looked like you were looking up through an old partially destroyed roof with the blue sky and clouds peeking through. I painted vines with small flowers. After many hours and a very stiff neck it was done and gave me great pleasure every time I went in there.
One easy painting option is blue sky and white puffy clouds. I blend a couple colors of blue on the ceiling and then paint white clouds over it. Always use a paint extender that can be found in all paint and hardware stores. It will extend the drying time and make the paint look transparent.
For any technique practice it on a board. Work out the trouble areas in a comfortable environment before you start doing them balancing on a ladder.