Different Types of Paints and When to Use Them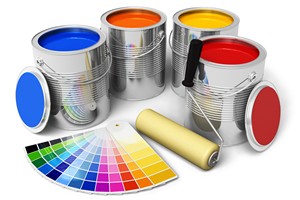 There are two kinds of paint to use for your interior and exterior painting jobs, and both have their advantages. Oil based paints are thick paints mixed from resins and oils. Latex or acrylic paints are thinner, water-based paints. How do you know which kind of paint is right for your next painting project? Acrylic paints are increasingly popular because they are not as toxic as oil paints and hence do not smell as bad. They are also quicker to dry and it is easier to clean up their mess. However oil paints have the advantage of lasting longer, especially in high traffic areas like on the trip of doorways. Trim is an ideal thing to paint with oils. The thick paint will protect the surface and it will be easy to wipe if the surface gets stained. Oil based paints also work well on the exterior of the house because they hold up well against the elements.
Painting with oil can be difficult because the paint is thicker and harder to stir and spread. You cannot shake oil paint like you can latex paint. It tends to bubble up when you put it on the wall. When you paint with oil, you need to wash your brushes in paint thinner. This is in contract to brushes that have been painting with acrylics; they can just be rinsed with water. Yes, oil paints are harder to remove from not only brushes, but also skin. While acrylics may stain your clothes, they can easily be wiped off your arm, face, or wherever else they happen to splatter during your painting project. Oil paints can also be troublesome because they are considered hazardous waste. You cannot just through a can of oil paint in the trash. You need to take it to an appropriate facility.
Many families prefer to paint with acrylics inside, because the smell of acrylics is less toxic and it fades much faster than oil's lingering scent. However, no paint is exactly safe for children, particularly when ingested, so make sure to clear the painting space of children and adults for a few hours to a few days while the paint dries.
When painting surfaces that are ideal for oil based paints, such as interior doors and trim, remember to prime the surfaces carefully. A good primer is essential for making the paint last. You do not want your paint to start peeling, which it can if the surface is not properly primed, or even if you are painting oil paint over another layer of oil paint. To primes a surface for oil paint, first wash the area. You can paint on primer with a brush, just like you would a regular paint, or spray it on. If you are going to be putting your coat of primer on top of a dark color of oil paint, then it might help to get the primer tinted slightly. This will save you time in the long run, because you will probably not have to apply several coats of oil to cover up the darkness beneath it and will also not need tools like air compressors to do the job.