Choosing Exterior Paint Colors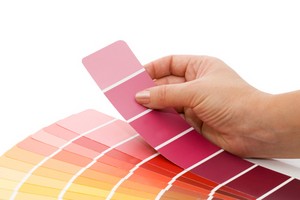 Now that you have taken into account the fixed features of your home, as well as the context of your neighborhood, you are ready to begin considering your available color options for the exterior of your home. Poor color choice can make your house seem flat, dull, and featureless, and you don't want the colors you choose to overwhelm any aesthetic features of the architecture of your building.
Light or Dark Colors?
As a general rule, lighter colors typically brighten a house and make it appear more spacious, while darker colors can make the building seem smaller, but can also draw attention to the details of your home. Dark colors also absorb and hold more heat, so they may not be a wise choice in hotter, sunnier areas.
Muted tones are an increasingly popular choice. A few examples of these muted tones include such colors as Windsor Blue or Colonial Green.
Number of Colors
Most people usually think of a two-color combinations when planning on repainting the exterior of their home. This is a common mistake, and choosing three or four colors to incorporate into the exterior of your home can have dramatic effects.
Trim/Accents
A well-chosen selection of contrasting trim and accent colors can draw attention to architectural details as well as disguise any design flaws. Bright accent colors are a good choice for doors and shutters. If you are painting the exterior of your home in order to sell it, a contrasting door color is a major benefit, say many realtors.
Building's Architecture
Be sure to find out what the original colors of your home were. Many times, people find that the original color combinations are the most appealing for their specific building type. This is especially true for historic homes. Ideally, Victorian style homes typically look visually appealing with Victorian colors, and so on.
Tools to Help You Choose
There are many methods available to you to help you find the ideal colors for your home. If you have artistic talent, you can draw a picture of the exterior of your home and make copies. You can then freely color the picture of your home with colored pencils, to get a better idea of how those specific combinations might look.
There are also many computer programs and software to aid you in finding the ideal colors for your home. Some of these programs come with a list of house templates to choose from, and some allow you to import an actual photo of your home in order to preview your color combinations.
If you plan on hiring a professional painting contractor, then why not ask for his or her opinion? Sometimes, there is seldom a better aid than a good professional's opinion.