Planning for Kenilworth Exterior Painting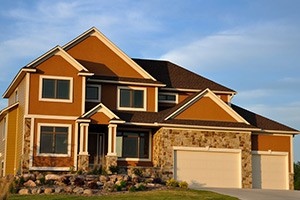 Is the exterior of your Kenilworth house starting to look old and worn down? It may be time to paint the exterior of your house. Unfortunately Kenilworth exterior painting happens to be one of the more expensive and time consuming home improvement projects. And generally homeowners have to endure an exterior painting job every 6-8 years, depending on the house and siding. Before you begin this daunting project, make sure to plan accordingly and make all necessary preparations.
Every home improvement project requires some planning. In fact, the planning and preparation process is one of the most important steps. One of the very first things you should do when having the exterior of your home painted is to determine if there is any prep work that needs to be done prior to painting. This is when you should be repairing any rotted siding, window sills, hand railing, or window and door trim. If you don't want to make the repairs yourself then your paint company should be able to provide a quote that includes replacing your siding and trim. However, it may be necessary to call up your siding professional if your project involves replacing a significant amount of siding.
Second, you should take the time to decide if you want to change the color of your house. Doing so can give your home a totally new and updated appearance. However, you want to make sure that the colors you choose fit into your neighborhood and compliment the colors that your home already has. For instance, you don't want to paint your house hot pink when all of the surrounding houses are light pastels. Making your home stick out like that can make it a less desirable home if it were put on the market. Also, it's important to pick a color that blends well with your plants, landscaping, foundation, and driveway. Keep in mind, changing the color of your house is often more expensive because more coats are required to cover the old color.
Third, decide on the technique that will be used to paint your house; hand brushed or sprayed. Most paint companies would prefer to have it sprayed because it is faster and easier. However, certain homes would benefit greatly from having the home hand painted. Such homes would include those that are older, those with wood siding, and homes that haven't been painted in a very long time. Painting by hand provides a thicker coat. It also penetrates deeper into the wood and crevasses which gives your siding protection from water penetration. Keep in mind; due to the fact that hand brushing is more time consuming you should expect to pay more for the services.
Lastly, you will want to carefully select a reputable Kenilworth painting contractor to do your exterior painting work. I suggest that you shop around and get a least three different price quotes because there are a lot of price variations for large exterior jobs. However, price shouldn't be the only deciding factor. The quality of the company is also very important because if the job is done poorly then it will need to be redone faster then you know which will end up being more expensive. So don't just choose a painter because they are inexpensive. Ask your friends and family for a reference before you even begin searching for a company. If someone you trust had a good experience with a company then the chances of you enjoying their work is higher.