Painting Exterior Trim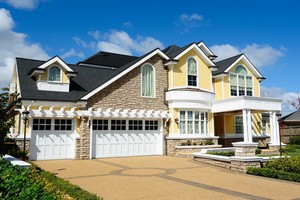 Painting exterior trim on your Chicago home can be thought of costing less than completely painting all exterior surfaces, but a few things to consider from a painting contractor points of view.
Most of us look to save where we can, especially in this day and economic conditions. House painting is no different, when it comes to saving money. A home exterior weathers from harsh elements of heat, cold, sun, and snow, and exterior paint ages over time needing repainting. Exterior trim, being that of solid wood is normally the first to show signs of painting maintenance. Many times a homeowner happens to call, asking for only painting the trim. Trim paint jobs sound good at first, but have some underlying thoughts may have not been considered. Below are things to consider when considering painting trim only.
1) Most homes exterior trim is painted on the front only, more commonly called front-facing the trim. Sides of trim is normally painted with main body color. Few homes have trim painted on all 3 visible surfaces, called in the painting industry as 3-D'ed painting.
2) Either edge of trim is painted with body color, and is where caulking is applied at most 90 degree angles. Painting trim only, cannot feasibly include caulking, as this fails and opens up over time. Most homes need new caulking when painting the exterior, and a close inspection can determine.
3) If new caulk is applied, main body portion needs to be touched up, and most of the time new paint will not match aged paint even using exactly the same paint out of the same paint can, as sheen difference will come into play.
4) Painting Chicago home trim is normally done by roller and brush, not sprayed, so more manual labor is required painting trim, and most cases costing 60% of the total exterior painting job.
5) Since the trim is the first to go, the main body of the home will be shortly behind requiring painting. If the trim was recently painted, and a few years later the body is ready for paint, all the trim will need to be covered, commonly referred to as masking off. Masking off expends time, labor and material, which adds to the bottom line cost to the remaining 40%, typically costing an additional 25% for masking trim. Thus costing 25% more after both trim and body portions are painted in separate years.
6) When painting exterior completely, the first thing to be painted after all preparations have been accomplished is generally spraying the body 2 coats wet on dry. Allowing the first coat to dry, before applying the second coat. In doing this, trim is over-sprayed, giving initial coat as well, thereby getting a total of 3 paint coatings, instead of the actual 2 coats required for maximum protection. This over spray is not charged in the painting cost, but adding to the elements of exterior duration and warranties.
7) Set up costs are normally included with any home improvement job, painting separate times for complete exterior painting can essentially cost double, unless agreed before work begins in painting quote.
Main thing to consider when considering painting exterior of your Chicago home is; How long do I plan living in this house. If your answer is any longer than 1 year, you may reconsider from painting trim only to painting exterior completely. From a quick glance, fresh trim paint will work from an aesthetic point of view, but not even close from complete protection and value points. Therefore, being fugal painting, does not always mean painting just enough to get by, sometimes costing much more in the long run.