Green Decorating and Painting Options for Your Park Ridge Home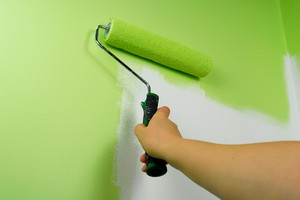 Take a look around at some of the products being sold by your favorite retailers today and you'll see that "going green" isn't just a catch phrase anymore; it's a way of living. But living green isn't just about driving a hybrid car or eating organic foods. It's now expanded into how we decorate our homes. In fact, there are more environmentally-friendly home-decorating products to choose from now than ever before.
That's because until a few years ago, if you wanted to decorate green you had to spend the green -- cash, that is. Today, however, many mainstream retailers and home furnishing stores have taken notice of the surge in green decorating. In response, they now offer affordable green home-decorating products that once were only available from pricey specialty stores.
Even though it's more affordable, there are still plenty of questions about what types of green home-decorating products are out there and what actually makes them green. Below are a few tips aimed at helping you navigate through the sometimes overwhelming world of green home decorating.
Paint Selection
One of the first things people do when they redecorate their Park Ridge homes is exterior and interior painting . And one of the easiest ways to incorporate green decorating into your home's decor is by using a Park Ridge paint that doesn't contain harmful volatile organic compounds (VOCs) that can evaporate into your Park Ridge home's air. There are many affordable low- or no-VOC painting products on the market. Not only are these products no-VOC paints, but sometime they are independently GreenGuard Certified and have breakthrough odor-eliminating technology that actually removes common odors. Check to see if your Park Ridge painting contractor uses or offers ECO friendly paints and materials.

Furniture
Once you've painted and it's time to furnish, there are more than a few green options available to you. FSC Certified wood products are optimal when purchasing green furniture. The FSC Certification means the wood in a product has been sustainably produced. Key FSC principles include the protection of forests, soil and indigenous species, restricted chemical use and limits on genetic engineering. If you can't buy FSC Certified wood products, look for furniture that's made of reclaimed materials from factory scraps or other pieces of furniture. Other options include furniture constructed of bamboo or rattan, both of which are very environmentally-friendly materials because they replenish rapidly.

Rugs
Rugs are a great way to insert personality and color into a space without requiring the installation of wall-to-wall carpet. Unlike furniture, there aren't any eco-friendly certifications issued for rugs, so when purchasing a green rug, the most important thing to do is check the tag. Look for rugs made from natural fibers such as organically grown cotton, bamboo, jute and sisal. Avoid those manufactured with synthetic fibers such as nylon, polyester, rayon or other petroleum by-products. That's because they're made using plastic, which isn't biodegradable. If they end up in a landfill, they may be there for decades to come.

Curtains/Blinds
When dressing your windows, opt for curtains and blinds that are made of non-toxic, environmentally sustainable, natural reeds, bamboos, grasses and other natural plant fibers. Once gathered, these materials are woven into patterns without the use of chemicals, dyes or other harsh processing found in traditional curtain material. Again, the materials used in the manufacturing process should be marked on the packaging. If you're having trouble finding eco-friendly curtains, you might also want to consider custom drapes. You can purchase organic cotton fabric online or at a local retailer and then have your drapes made, or better yet make them yourself.

From the largest to the smallest products, as green decorating continues to grow in popularity, so will your shopping options. As they do, just remember to be prepared and do your research before you leave your house and head out to the store. Choosing eco-friendly home decorations for your Park Ridge home should make you feel good about helping the environment, not stress you out.