Hardwood Flooring Damage to Look Out For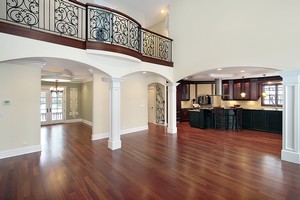 If you have hardwood floors in your Wilmette home, you know how diligent homeowners have to be to ensure that their hardwood flooring remains in good condition as it ages. You can repair some scratches, dents, and stains yourself, but extensive damage requires the attention of a house painter with experience in hardwood flooring refinishing and replacement.
Common Problems with Hardwood Floors
Normal Wear and Tear – You may treat your hardwood flooring well, but regular wear and tear will cause it to show signs of age eventually. The floor's finish will become dull over the years, so you may want to schedule hardwood waxing or refinishing services.
Pets – Pets are often the cause of damage in your home, and they can definitely leave a mark on your hardwood flooring. Minor staining caused by your pets can be sanded down, but major staining usually requires a floorboard replacement.
Dents – Your hardwood flooring can be dented by heavy impact, but the dents can be repaired. You can repair a dent yourself by placing a damp towel over it and holding an iron directly above it for about 5 minutes. The wood beneath the towel will swell and fill in the dent because of the steam. If you try this method, don't expose the undented flooring to the steam. After the floor dries completely, a house painter can refinish it.
Moisture – Excess moisture is harmful to many surfaces in your home, especially woodwork and hardwood flooring. When you clean your hardwood floors, you shouldn't use a lot of water because the moisture can lead to the buckling and swelling of floorboards and the growth of mold and mildew.
Spills – Crying over any spilled liquid may seem dramatic, but you definitely shouldn't neglect spills on your hardwood floors either. If you spill something on your hardwood flooring, make sure to clean it up with a dry cloth as soon as possible. If any residue remains, you can remove it with a slightly damp cloth.
Scratches – You may not be able to eliminate scratches on your hardwood floors, but you can limit the number of scratches by trimming your pets' claws and cleaning up sand and grit. Try not to drag heavy furniture and appliances on hardwood floors, and don't wear heeled shoes inside. Waxing and buffing can repair scratches on your hardwood floors, so consider hiring a house painter to refinish your hardwood flooring to improve its appearance.
Burns – Hardwood flooring in the kitchen or near a fireplace is especially susceptible to burns. Simple refinishing can repair minor burns. However, severe burns may need to be scraped off, sanded down, and covered with a wood filler before refinishing.
Don't fret over the hardwood floors in your Wilmette home because they're more durable than you may think, and if they experience any severe damage from pets, moisture, or burns, you can contact an experienced house painter from Chicago Painters Inc. to repair the damage and refinish the flooring.