Choosing Interior Paint Colors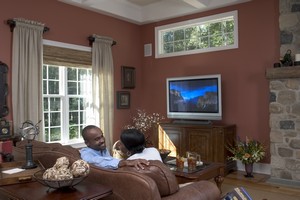 Changing the color of your interior walls is an excellent way to increase the resale value and appeal of your home. It is a cost-effective way to add style, personality, and warmth to any room. In fact, it is so cost-effective, that some choose to paint their walls quite frequently in order to change the mood of a room, paint a room according to the season, or just to express their personalities.
So what colors should you use to repaint your walls? Well, that is completely a matter of taste, but there are a few things to remember that may make it a little easier for you to choose the perfect colors for your taste.
Psychological Effects of Colors

It is important to remember that colors have a relatively strong psychological impact on us. It is common knowledge that lighter colors, such as white and yellow, tend to make a room appear brighter and larger, while darker colors can make a room seem smaller. There are also warm colors, like red, orange, and yellow which are inviting. Green, blue, and purple are some examples of cool colors, which tend to be relaxing and soothing. Light blue is commonly thought of as the most calming color, which is why you may see schools, daycares, detention centers, etc. utilizing it in their paint schemes.
Utilizing Colors

When choosing a paint color for the inside of your home, take your furniture, floors, etc. into consideration. The goal is o choose colors that compliment the colors of your furniture, appliances, floors, accessories, and other established colors within your home. The use of contrasting colors can also be utilized to your advantage. You can use colors that contrast large pieces of furniture, artwork, etc. to emphasize these objects.
Paint color can also be used to draw attention to architectural features, such as arches, trim, doorways, and any other unique aspects of your home that you may want to incorporate more fully. Furthermore, well-chosen color combinations can also cover up or hide certain design flaws or unattractive aspects of your home's design.
Tools to Help You Choose

There are several options available to help you choose what colors you want for your walls. Every paint store supplies paint color samples. Remember that the color may not appear the same on the little card as it will on a twenty-foot wall. Normally, the samples appear slightly darker, while the color will seem brighter on a large surface. There are several computer programs that let you preview what your color combinations will look like in a model of your home.
Probably the best method of coming to a solid conclusion as to what colors you would like to use on your walls, is to ask a professional. Professional painting contractors have much useful knowledge and experience including, not only color choices, but what type of paint is best, type of application, and other information useful to your unique situation. What better source of advice?
By Budda Oliver