How To Prepare For An Interior Painting Project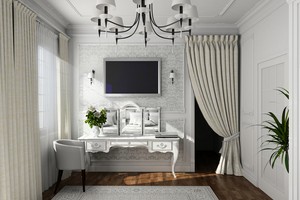 The following information will give you some basic knowledge about painting and especially having a Chicago painting company. Once you've decided what color and type of paint you would like, you'll need to get ready for the painter, too!

Interior Paints: Latex-based paints are used for most interior paint jobs. Latex paints come in a variety of colors, and you can clean up using water. Flat or low-gloss finishes work best for rooms that get a minimal amount of wear. Consider a glossier finish for rooms that get more use (children's bedrooms, kitchens, laundry rooms, pantries). A paint that has a glossier finish can take more wear and tear and more cleaning.

Glossy finishes also work great for floorboards and trims as a contrast to flat wall paint, and because trim often gets the most handprints and dirty smudges. For bathrooms and other areas that get the most humidity and traffic, use an oil-based paint. The toughest oil-based paint has a high-gloss enamel finish that has a hard plastic finish for extreme conditions.

Paint Usage: On average, a gallon of paint will cover 400 square feet in one coat. This will vary depending on the surface quality, the color of paint and how thick you apply it. Professional Chicago painters will apply exactly as much paint as needed; do-it-yourselfers often will use more paint than necessary. Paint will cover a room best in two thin coats instead of one thick coat, and the gallon will go farther too.

Interior Wall Surfaces: There is a variety of wall surfaces. Textured drywall is one of the most common finishes found in modern houses or remodels. It will have a textured finish that looks like bumps or ripples. Smooth drywall is another finish found in modern homes that looks very smooth, almost like glass. Plaster is an interior wall finish found in many older homes made of a putty-like mixture that is trawled onto a lath.

Preparing for the Painter: A few days before the painter begins his or her work, take some time to remove all items that could get in their way. Move furniture away from the walls and cover with drop cloths. If the corners and baseboards are dirty, vacuum and clean them. The painter will most likely cover the floor and tape all areas that need to be protected.

Allow the painter easy access to water, so he or she can clean their brushes and tools, without having to walk all through your house. If you have pets, or curious young children, try to keep them away from the areas being painted. A wagging tail or wandering fingers can ruin a perfect paint job in an instant!