Interior Painting Trends for 2018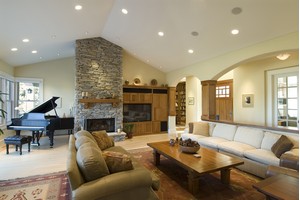 We may be halfway through 2018, but interior painting is a good idea no matter what time of year it is. Before you reach out to a Mount Prospect house painter, take a look at some of the most popular colors of the year. Although you shouldn't be swayed by temporary trends, color fads may give you the inspiration you need to transform your home's interior.
Autumn Maple
If you're in the mood for a dose of rich warmth in your space, consider autumn maple, an amber orange with brown undertones. The color is neither feminine nor masculine, so it would suit a couple's bedroom or living area, and just because it is described as an autumnal hue does not mean that it won't function perfectly all year. Copper accents enhance autumn maple's warmth, and these can come in the forms of lamps, coffee tables, or bar carts.
Sage
Sage has risen in popularity because of its immense versatility. When paired with gray, white, or beige, sage acts as a crisp pop of color that adds a sense of calm to the room, but when paired with vibrant teal or sunflower yellow, it serves as a complementary neutral. Consider mixing sage with brass hardware and fixtures for your Mount Prospect interior paint. Sage is also an excellent color for kitchen cabinets or throw pillows and blankets.
Marigold
Consider having your house painter apply a coat of marigold yellow to your walls if you desire a color that will transition easily from summer to autumn. This color is bright and sunny but contains more warmth than a true yellow, creating a retro '70s vibe. Consider pairing a marigold accent wall with moss green, navy, or gray furnishings and walls.
Warm Beige
Play it safe and incorporate warm beige walls into your home. The color pairs nicely with light blues and blonde natural wood. A step up from white, warm beige also pairs well with red, pink, turquoise, and virtually any other color you wish to match it with. If you prefer a monochromatic look, blend together several shades of warm beige, ranging from yellow to pink tones and with different intensities.
Caviar Black
Caviar black is a color on the brink of charcoal, and it blends seamlessly with dark furnishings. Praised for its sultry appearance, caviar black is used on walls, doors, cabinets, and woodwork. Although it is a dramatic shade, consider caviar black a neutral, and don't be afraid to pair it with pops of vibrant color. If you're just wanting to dabble in the dark side, consider a caviar black accent wall, and if you want to take a bigger step, have your house painter paint an entire room, such as the dining room, caviar black. If you're afraid of closing off your space with dark hues, place caviar black in rooms with substantial amounts of natural light from large windows.
If you can't pick just one trendy color from 2018, consider choosing several. Pair marigold yellow with warm beige or caviar black with autumn maple. Whatever color combination you choose, an experienced Mount Prospect house painter from Chicago Painters, Inc. can assist you with your interior painting.