Painting Your (River Forest) Insides!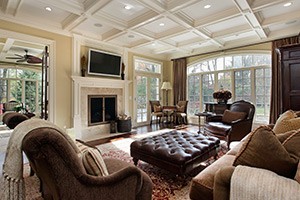 Changing the interior design of a house will be too expensive if furniture will have to be replaced. What could be the simplest solution? Change the interior painting of your River Forest house! Not only that it is the cheapest way, but it will also change the over-all look and atmosphere of a room. This article provides information and tips on the necessary preparations, paint colors and finishes.
The first thing to consider here are the available furniture, cabinets, fabric, carpet, or tiles. Since replacing them are not quite necessary, make sure that colors and designs of these samples will complement one another. Do not forget to measure the room or the interior of the house that needs re-painting. Professionals at the paint stores can help determine the quantity of paint to be used by these measurements. Even when choosing the right paint color, seeking advice especially from paint professional really pays off.
Ask about their most recommended paint products, and why. It is also good to collect paint chips before making final choices and keep notes such as the location and name of the shop where the paint was found so that no paint and effort will be wasted and everything will be coordinated. Never rush in choosing paint color. While searching for an interior paint that fits the room, study the colors well. Know the different shades of a color and consider using a darker tone at some areas of the house. Be wise in selecting warm colors, like orange, red, and pink or cool colors such as blue, green, and violet to complete the right tone. Do not always resort to white. Be brave and playful by matching various colors. Look for a paint store that offers custom color mixing to achieve the tone that is best for the furniture in the room.
However, always have a white paint readily available in the house. It can be used all the time to lighten some paint that's too dark. Then, to give emphasis on certain parts of the room, use deeper or brighter tones. In achieving a really striking look, try dark tones and lighter walls or even bright color for trim. The next step after choosing colors is to give it a try. Test it on a surface (it can be a board or a wall). Have several samples and view it during the day and night, even inside or outside the room.
Check the differences too by viewing it in natural light, incandescent or fluorescent lights. Let the paint dry because some paint becomes dull while others tend to look brighter as it dries in the surface. If paint was applied to a board as a sample, place it up against the wall or lay it flat on the floor to see how it will look like when applied to the room. Examine if the sample is being affected by other colors in a room, thus changing the original color. For ceilings, light colors are usually most pleasing but matching the ceiling to the wall color is not a bad idea at all. Try paints that are one or two shades lighter than the wall color.
Another important thing to consider in River Forest interior painting is the paint finishes. A matte finish (flat finish or wall paint) is the most commonly used of all. It can be used to hide small wall bumps and cracks because this finish does not reflect light. It is also used for ceilings. A room can look classic and simple with this finish on walls and furniture too. For halls, some manufacturers recommend flat enamel because it is durable and it produces walls resembling to flat finishes. It only holds up to occasional cleaning though. An eggshell finish has only slight hint of shine, so it is good for walls too. However, compared with a flat finish paint it holds up better with cleaning which is why it is commonly used in painting children's rooms along with satin paints and semi-gloss finishes. These glossy paints can be used in selected parts like doors, trim, and cabinets in kitchens. Since the bathroom is constantly exposed to water, splashing, or steam, it is best painted with a semi-gloss paint. It is good to remember that the shinier the paint finish, the longer it will last even if it is frequently washed and cleaned. Your River Forest painting contractor can also provide you with painting techniques that will change the look of the interior paint.
Although there are so many things to consider in painting the interior of a house, always remember that planning these things take time - so never rush in deciding, just enjoy the work, and be brave in trying out new ideas.