The Right Color For The Right Room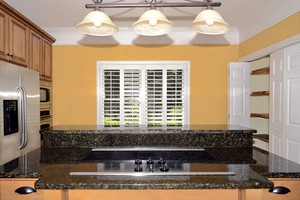 So, you've just bought the house and wish to repaint all the walls in each of its rooms. That would be fantastic. Just make sure you don't choose the wrong color.

So, let's get it started:

* Your Bedroom.

It's bedtime. You need a room that can make you feel comfortable, warm, and peaceful yet can cheer you up in the morning while you wake up. So, what you need is balancing the colors. One thing for sure, don't use dark colors for the walls. Instead, choose warm ones like buttery yellow, misty peach, or sweet, delicate pink. These colors might be soft and can help you sleep better but they can also be inspiring in the morning. Note this: don't use red or yellow for the walls.

* Your Living Room

When you go home from work, you'd like to sit down and watch some TV. To relax. Yes, that's what a living room is for. Green is considered the most restful color for the eye. Blue is also good to add calming effects. Both can relieve your stress and get you relaxed.

* Your Kitchen

The first impression of your kitchen should be clean. Blue or light yellow would be great. Plus, these colors give you the sense of calming and relaxing so when you have to cook, you won't easily get tired.

* Your Kids' Room

Boys relate to blue while girls to pink. Some people are getting bored with those colors. Why don't you try light green combined with yellow or you can combine purple, light blue and pink. Be imaginative with colors in your kids' room. Their favorite color should be added as well.

* Your Bathroom

Wish to be different? Forget blue. Aren't you bored to see blue in every bathroom in this country? So, try other colors. Play with bright ones. Try yellow, try orange. They will surely brighten your day in a cozy morning while you wish you were still in bed.

Before choosing the right colors for your house, it is better for you to learn about the essence of colors. That way, you will know which colors to choose and how it affects your rooms.