Selecting a Stain Color for Your Deck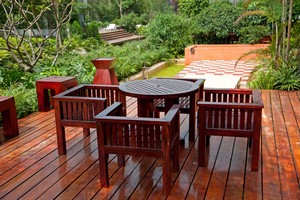 One of the best parts of owning a deck in Elmhurst is choosing the perfect stain color. Although you're free to choose whatever stain color you prefer, your house painter will probably recommend selecting a color that enhances your home's exterior and landscaping. Deck staining is just as important as new deck construction or deck restoration, so homeowners are urged to select stain colors that they'll enjoy for many years.
Paint and Stain Color Ideas for Your Deck
Cape Cod Gray – Have your house painter apply Cape Cod Gray if you want your deck to have a cool, contemporary look. This light gray shade resembles cement and pairs nicely with blue, green, or white houses.
Alligator Green – A color found in nature, Alligator Green is perfect for homeowners who want to add color to their homes' exteriors but don't want it to be too bold. This soft emerald shade will blend in with the environment surrounding your home.
Mystic White – A white deck is traditional and timeless. Mystic White is a gray-toned white stain that doesn't show sand and dirt as much as you'd think.
Mountain Cedar – A warm tan like Mountain Cedar allows the natural color of your wood deck to show through the stain. Mountain Cedar is a good choice for homeowners who want their outdoor living space to be comfortable and welcoming. This mid-toned stain color flatters both dark-colored and light-colored homes.
Amsterdam Blue – Deep blue tones like Amsterdam Blue are classic, serene, and versatile, and homeowners with gray or light brown homes often select Amsterdam Blue. Consider having your house painter paint your deck railings white to contrast with this stain.
Semi-Transparent Dark Oak – Dark oak stains are deep brown with hints of warmth. Semi-Transparent Dark Oak accents the wood grain of your deck to highlight its natural beauty. Because dark oak is such a neutral color, you can add furnishings of any color to your deck.
Quick Tips for Deck Staining
Test several stain colors on an obscured section of your deck to help you determine which one to choose.
Take your outdoor furnishings and landscaping into consideration while selecting a stain color because not all colors will complement these features.
Consider the natural color of your deck when choosing a stain color because semi-transparent stains will reveal the original shade of the wood to some extent.
If you require assistance with the color selection process or if you want the opinion of an expert, a house painter at Chicago Painters Inc., a trusted painting company serving Elmhurst, can provide you with the deck staining guidance you're looking for.