Chicago House Painting Tips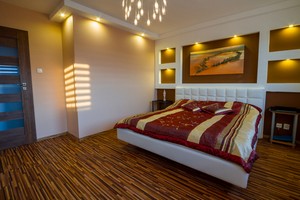 Choosing various colors for your Chicago house painting is more difficult than what you think. This is because a wrong choice of shade can either make your house appear too subtle or too vivid. Aside from that, a wrong choice of color can lead your house to appear featureless and too plain. On the extreme side, bold colors can overwhelm the entire architecture of your house. This may also be a cause of disappointment on the part of your neighbors.
To optimize the colors that you will choose for your Chicago house painting, it is better to choose shades that will highlight the most interesting parts of your house. If you can do this correctly, you may even be successful in hiding unsightly marks and other forms of imperfections that may be found on your house. It can result to your houses' better visual appeal and market value.
If your home is more than ten years old, you may want to use a color scheme that can highlight its advanced age. Usually, you can achieve this effect using classic color schemes. For this task, you may hire a contractor to recreate the original shade of the house painting and to examine the chips of the old paint. You may also refer to various historic color samples and choose the shades that were more likely used when the house was built.
If you want a new type of shade but still prefer to retain the classic touch of your house, you may opt to choose shades that emphasize the architectural details of your house. However, you should strike a good balance between applying modern shades to old designs and retaining the balance of the shades for your entire house. It would also be a helpful reminder to examine the shades that your neighbors have been using on their houses to avoid standing out too much.
While using the shades of your neighbors' houses can give you a hint on what shade to use, you should not copy the exact shades that they are using for their Chicago house painting . You should choose shades that can help your house to stand out. However, these shades should still produce harmony with the adjacent houses.
If you are having a hard time looking for color inspiration, you may use elements from nature. For instance, you may look at the greenery that is surrounding your entire house and produce a color scheme that greatly matches this feature. All you have to do is experiment on the subtle shades that you see around you so you can create great results.
Another good reference that you can check out is the color of your roof. This does not mean that you should closely match the color of your house with the roof. This simply means that you should come up with various color combinations that harmonize with and complement the color of your roof.
There are some instances that there details in your house need not be painted. For cases like these, you should adequately inform your Chicago painting contractor before they set out to perform the painting job for you. This will significantly reduce the chances of having unsatisfactory results.