Benefits of Pressure Washing Your Deck Every Year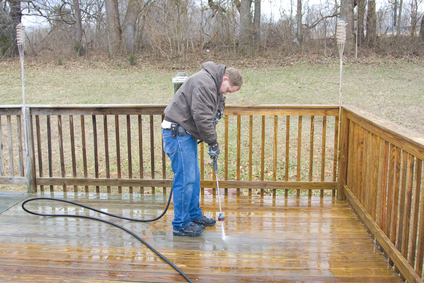 A deck can prove to be one of the best things you could get for your Chicago area home. In addition to providing a great place for you to relax alone or with loved ones, a deck can increase your home's resale value. Because a deck is such a great and valuable installation, you'll want to take steps to keep your deck in shape for many years.
An effective way to keep your Chicago home's deck in quality condition is to get it a pressure washing every year . A professional pressure washing will provide a number of great benefits for your deck. Keep reading to see what three of the most compelling of these benefits are:
Better Curb Appeal
Whether you want to put your home on the market or you simply want it to make a good impression on your neighbors, you'll need to maintain excellent curb appeal. Of course, if your home were blighted with a dirty, unsightly deck, you'll never be able to enjoy those qualities.
To maintain your home's curb appeal, you need to make sure its deck always looks great. Fortunately, doing that is a no-brainer: Just get a yearly deck cleaning. By doing so, you can keep your home beautiful and market ready -- not to mention impressive to your neighbors!
Extended Deck Lifespan
As we said, a deck offers you a great space to relax or entertain. For that reason, you'll want to make sure you get many, many decades of use out of your deck. To do that, you need to maintain it as best you can. Since a major detriment to your deck's lifespan is water damage and mold growth, you'll want to take action to have those problems removed thoroughly.
A quick and effective means of doing that is to get yearly deck cleanings. A pressure washing can instantly knock away many months and even years of nasty buildups. Your deck will look great, and more than that, it will remain in the best possible condition, ensuring that you'll get many years of use out of it.
Great Health Benefits
Those mold and algae growths mentioned above can harm more than just your deck. They can also affect your health. After all, exposure to these growths can lead to a variety of health problems for you and your loved ones, and above all else, that is reason enough to get routine deck cleaning work.
By removing these harmful growths, your deck cleaning experts can be sure that you and your loved ones remain safe and healthy. You'll spend much of your time at home, so it's imperative that you keep your home safe and healthy. That's why routine deck cleaning work is a vital investment.
Call Chicago Painters for Quality Deck Pressure Washing Service
Are you ready to enjoy all of these great benefits? If so, don't hesitate to call the Chicago painting experts at Chicago Painters. We offer top-quality pressure washing services that will keep your deck looking great and standing strong for many years to come.